Sri Chaitanya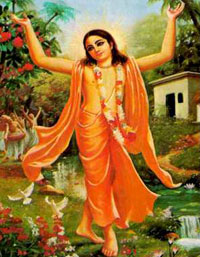 Sri Chaitanya was born in Bengal about 1486. He was a great scholar and pundit however in his early twenties he became absorbed with devotion for Lord Krishna. He forsook his worldly career and spent his time as an ascetic, a wandering monk. He spent his time in Kirtan (devotional singing) and meditation.
Sri Chaitanya spent many years travelling through India attracting many followers and disciples. He spent the last 24 years of his life in Jagannath, Puri where he enjoyed the patronage of  Maharaja Prataparudra the King of Orissa,
Sri Chaitanya left a profound legacy on the spiritual and cultural outlook of India, especially Bengal. He did not adhere to the rigid caste system and accepted Muslim disciples as well as Hindu disciples.
Sri Chaitanya gave a resurgence to the Vaishnava tradition of bhakti yoga "devotional yoga". This tradition was followed by saints such as Mirabaiand  Sri Ramakrishna in the 19th Century. In the 20th Century A.C. Bhaktivedanta Swami Prabhupada, popularised this form of Hinduism in the West
"Chaitanya" means consciousness
Related
External Links