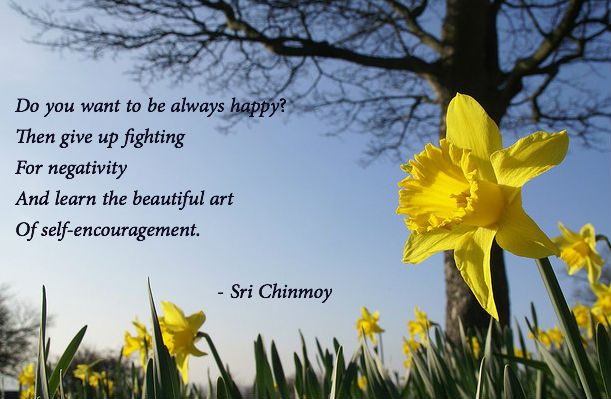 Do you want to be always happy?
Then give up fighting
For negativity
And learn the beautiful art
Of self-encouragement.
– Sri Chinmoy
~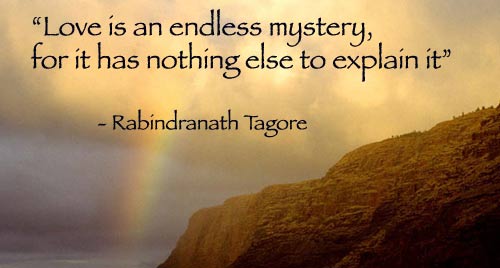 "Love is an endless mystery,
for it has nothing else to explain it."
– Rabindranath Tagore
~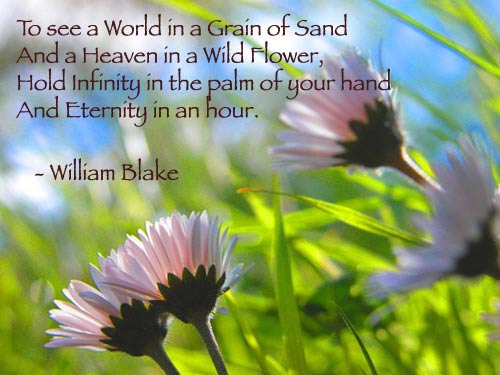 To see a world in a grain of sand,
And a heaven in a wild flower,
Hold infinity in the palm of your hand,
And eternity in an hour.
– William Blake – Auguries of Innocence
~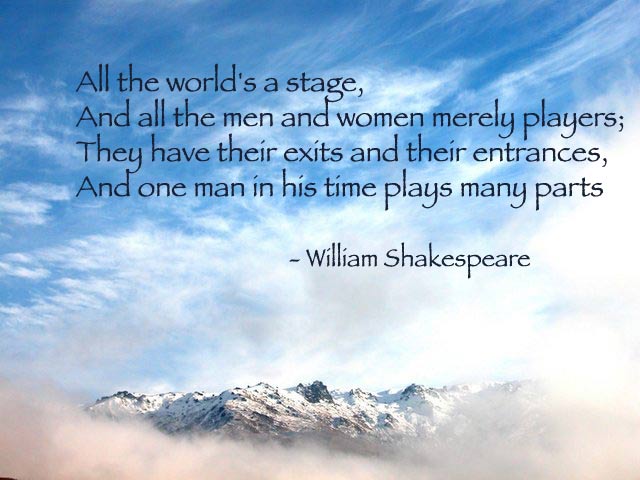 All the world's a stage
And all the men and women merely players;
They have their exits and their entrances,
And one man in his time plays many parts.
– William Shakespeare, As You Like It
~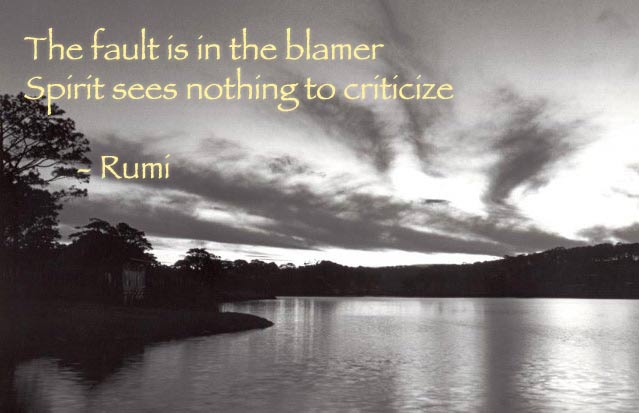 The fault is in the blamer
Spirit sees nothing to criticize.
– Rumi
~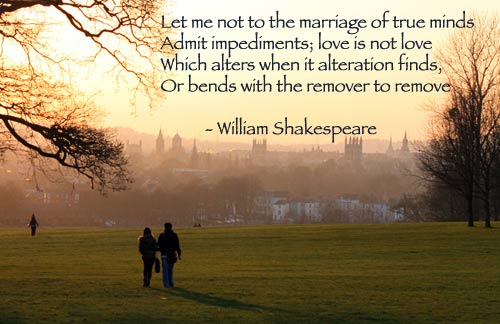 Let me not to the marriage of true minds
Admit impediments. Love is not love
Which alters when it alteration finds,
Or bends with the remover to remove:
– William Shakespeare
~
Inspirational Quotes
"The soul migrates from body to body. Weapons cannot cleave it, nor fire consume it, nor water drench it, nor wind dry it."
– Bhagavad Gita
~
One word frees us of all the weight and pain of life: That word is love
– Oedipus at Colonus
~
"Nowhere can man find a quieter or more untroubled retreat than in his own soul."
– Marcus Aurelius (121-180CE), Meditations
~
"Where there is hatred, let me sow love; where there is injury, pardon; where there is doubt, faith."
– Prayer of St Francis of Assisi, 1205
~
To sleep: perchance to dream: ay, there's the rub;
For in that sleep of death what dreams may come
When we have shuffled off this mortal coil,
Must give us pause'
– William Shakespeare 1564-1616 Hamlet, Act III, Scene I, 1601
~
No man is an island, entire of itself; every man is a piece of the continent, a part of the main."
– John Donne 1572-163. Meditation 17, Devotions upon Emergent Occasions, 1624
~
"Musick has charms to soothe a savage breast"
– William Congreve 1670-1729. The Morning Bride, 1697.
~
"Darkness cannot drive out darkness; only light can do that. Hate cannot drive out hate; only love can do that."
– Martin Luther King Jr.
~
"To be yourself in a world that is constantly trying to make you something else is the greatest accomplishment."
– Ralph Waldo Emerson
~
"There are only two ways to live your life. One is as though nothing is a miracle. The other is as though everything is a miracle."
— Albert Einstein
~
"If you judge people, you have no time to love them."
— Mother Teresa
~
"This above all: to thine own self be true,
And it must follow, as the night the day,
Thou canst not then be false to any man."
— William Shakespeare (Hamlet)
~
"I could be martyred for my religion.
Love is my religion
and I could die for that.
I could die for you."
— John Keats
~
"The problems of the world cannot possibly be solved by skeptics or cynics whose horizons are limited by the obvious realities. We need men who can dream of things that never were."
— John Keats
~
"Judge nothing, you will be happy. Forgive everything, you will be happier. Love everything, you will be happiest."
– Sri Chinmoy
~
"Try not to change the world. You will fail. Try to love the world. Lo, the world is changed. Changed forever."
– Sri Chinmoy
"My God is love and sweetly suffers all."
— Sri Aurobindo (Savitri)
~
"If I can stop one heart from breaking, I shall not live in vain."
— Emily Dickinson
~
"Behold, I do not give lectures or a little charity. When I give, I give myself."
—Walt Whitman
Further Reading