Good meditation involves quietening the mind and opening the heart. 
Usually our mind is constantly engaged in thoughts and can only experience a limited sense of peace. The first aspect of meditation is trying to quieten and ultimately still the mind.
The complement to silencing the mind is 'opening the heart.' As we begin to reduce our thoughts and desires, it enables our inner heart to come to the fore. The spiritual heart is the part of our being which encompasses inner silence and our inner joy. It is the heart that is the seat of the soul – our inner being – the connecting link with God.
When we feel an awakening in the heart, this helps very much to quieten the mind. The heart has its own power and intensity. If we get joy from the heart, it becomes increasingly easier to feel detached from the mind and our thought processes. If stopping our thoughts seems an impossible task – don't worry, concentrate on strengthening the awareness of the heart instead.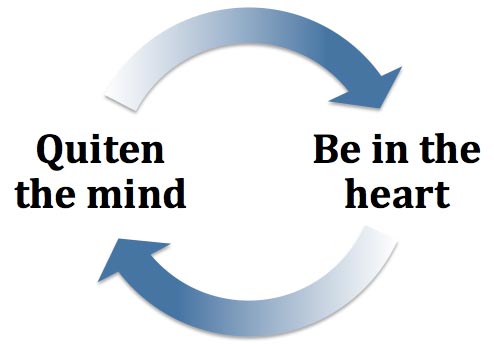 Two aspects of meditation that reinforce each other.
A beginner may start meditation and think – stopping my thoughts is very challenging. And, in many ways it is! We cannot expect to stop all thoughts over night – even after a few years of practise, it is not easy. But, as long as we take our first steps to quietening the mind, we also enable the journey of the heart to begin. Some seekers will make more progress through concentrating on the heart – rather than fighting the unruly mind. Focusing on the heart will make our task increasingly easy.
Even if our mind is not perfectly still, we can still start to have a good meditation by bringing the heart to the fore. In the heart, we will feel an inner cry and a sensation of peace. Continue Reading →