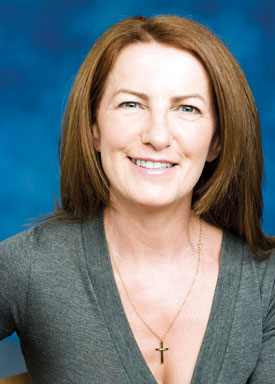 Lorna Byrne is a writer and mystic who has sought to share her experience of seeing and communicating with angels.
Lorna was born in Dublin, Ireland in 1954. From, as early as she can remember, Lorna writes how she saw the presence of angels on a continual basis. As a young child, she was surprised to find that her experience was not common and she learnt to keep quiet about her experience of seeing and talking to angels.
Her father worked in a bicycle repair shop in the Old Kilmainham district of Dublin; the family were poor and lived on a tight budget. Lorna struggled at school where she was often labelled retarded and dysfunctional. She came across as a slow learner and 'different' to the other children.
"I grew up an outsider. People could see that I was different and they just couldn't understand it. That aspect of my life has been very, very hard – and it still is today." (p8, Angels in My Hair)
When she was young, Lorna related how an angel known as Elijah showed her a vision of a future man she would meet and marry. Lorna did marry a man called Joe and together they had four children. They moved to a run-down cottage in rural Ireland. Her husband Joe, frequently suffered from ill health and died early from cancer. In her book 'Angels in my Hair', Lorna relates how she was told in advance by angels, that this would happen. Also at the time of his death, she was able to see his soul leave the body.
When her children had grown up, Lorna began writing a book about her experiences of living with angels. She relates how in the beginning she was very nervous about the prospect of writing about her relationship with angels and God. From experience, she had learnt to keep quiet about her 'other-wordly' experiences; she also struggled with words. Yet, through a sequence of events, she completed the book and succeeded in gaining a contract with Random House, a leading publisher.
On publication, her book 'Angels in My Hair' became a best-seller, remaining number one on the best seller list in Ireland for 21 weeks.
Religious Beliefs of Lorna
Lorna was brought up in the Catholic faith and attends mass regularly. She writes that in her experience she sees angels in every religious establishment, be it Protestant, Catholic, Muslim or Jewish. She writes
"Your religion makes no difference to the angels: they have told me that all churches should be under one roof. Muslims, Jews, Protestands, Hindus, Catholics and all the other different religions should be together under one umbrella." (p31 Angels in My Hair)

"There is no difference between a Muslim soul and a Christian soul. If we could see each other's souls we would not be killing each other over different interpretations of God." (p31, Angels in My Hair)
So far, the Catholic church have not endorsed her beliefs, but her books and writings have inspired many to take more interest in religion, angels and prayer.
To Lorna, angels are universal gifts from God. Angels continually try to inspire and encourage humans to be aware of their divine possibilities. She says every human being has a guardian angel.
"As you sit reading this – whether you believe it or not – there is an angel by your side: it is your guardian angel, and it never leaves you." (p14, Angels in My Hair)

"To God and the angels we are all equal; we all deserve to be protected, to be cared for and to be loved, regardless of what others might think of us – good or bad." (p14)
Lorna says that she doesn't consider herself psychic or a healer. She says that healing comes from God. Rather she sees herself as an intermediary between humans and angels.
Lorna describes angels as very beautiful, more beautiful than we can imagine. Sometimes they appear as columns of light, other times they can take human form. Lorna also says that the human soul is very beautiful and we should take more time trying to communicate with our soul.
Lorna continues to live simply in rural Ireland. She writes:
"I have no interest in money. I think there are more wonderful things in the natural world than money."   (1)
In 2010, she published a follow up book 'Stairways to Heaven' which included more knowledge about angels and their teaching. This described in more detail different experiences with angels. This Including her role in helping a pair of spirits move on from a painful experience many years before.
Citation: Pettinger, Tejvan Oxford, UK, Write Spirit.net, 21st January 2011.
Related