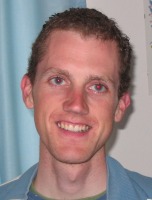 Hi, I am Tejvan Pettinger and am a student of Sri Chinmoy I currently live in Oxford, UK.
I was brought up in Yorkshire and went to Oxford University to study PPE. I enjoyed my studies although I found the (western) Philosophy a bit difficult and dry. It was during my degree that I became interested in Eastern philosophy and Spiritual Poetry. These sacred writings encouraged me to take up meditation. It was also at University that I became a meditation student of Sri Chinmoy. I now meditate every day and try to spend time reading books on spirituality, either by my teacher Sri Chinmoy or other inspirational spiritual personalities.
Apart from an interest in spirituality I spend a lot of time riding my bike, I compete in time trial races for the Sri Chinmoy Cycling Team and sometimes win. I currently work as an Economics teacher at a school in Oxford.
It is a great opportunity to be able to work on a site like Write Spirit.net. I hope you enjoy visiting our site.
Tejvan is a spiritual name given by my Guru, Sri Chinmoy.
Other Sites