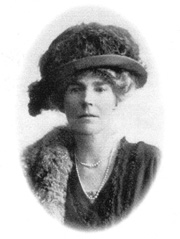 Gertrude Bell lived an extraordinary life, chiefly remembered for her pioneering assimilation of Arabic culture. Amidst a litany of achievements both academic and cultural her life also displayed certain paradoxes. Despite being a brilliant scholar, archaeologist, mountaineer and linguist, she also found time to be a leading figure for the anti Suffragette Movement (perhaps bizarrely saying if women were still interested in housework, why should they get the vote). Uniquely for her time she mingled easily with Arab princes, playing a formative role in the creation of the modern state of Iraq. (Some have even called her 'The Mother of Iraq') In a Victorian era that stifled Women's role in society, she proved a fearless traveller spending many years crossing the deserts of Arabia and befriending the Arab people. Even though the Arabic princes were unaccustomed to a women playing such a pivotal role in politics they generally warmly accepted her and she in turn felt part of their culture. As a leading figure in the formation of modern Iraq, Gertrude Bell could be described as a proud British imperialist. Yet she still found time to help bring to light the mystical Sufi poetry of Hafiz, offering a sympathetic translation that is still popular today. Not without reason her biographer Victor Winstone described the life of Gertrude Bell as:
'An almost an uninterrupted succession of extraordinary achievements' (1)
View: Gertrude Bell on poetry of Hafiz
Short Biography Gertrude Bell (1868- 1926)
Born in County Durham on July 14th 1868 to a family of great prosperity, Gertrude Bell was the daughter of the great Industrialist, Isaac Lowthian Bell. This wealth was later used to finance Gertrude's later travels around the world. At the age of 16 Gertrude went down to Lady Margaret Hall, Oxford where she became the first woman to achieve a first in History, after only 2 years of study. Thereafter she travelled to countries such as Iran, Mesopotamia, Jerusalem and Switzerland. She developed a passion for archaeology and mountaineering in the French Alps, (she become one of the best female mountain climbers.) Her fascination with Arabic culture led her to learn many languages including Arabic. In Jerusalem she is said to have dressed up as a man in order to investigate the mysterious world of the Druze community.
In 1915 Gertrude Bell volunteered for service with the Red Cross in France but shortly after she was summoned to Cairo where she worked on behalf of the Cairo office who were helping to ferment a rebellion of the Arabs against the Turks. Because of her intricate knowledge and personal dealings with the Arab tribes Gertrude was able to offer a wealth of information that was used by T.E.Lawrence and others in the successful Arab revolt. In 1916 she arrived in Basra and was able to draw maps helping the British army reach Baghdad. Bell was the only commissioned female officer in the British army and for her work she was later awarded the C.B.E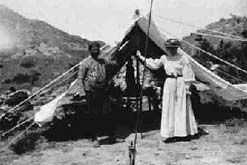 After the war and the collapse of the Ottoman Empire, Bell was instrumental in first negotiating the borders of Iraq and then persuading Churchill to accept Faisal as the new King of Iraq. Bell then acted as an adviser to Faisal, leading some to comment she was the 'uncrowned Queen of Iraq' It is said Gertrude Bell and great skill in persuading politicians about her own viewpoint. Her contemporary Virginia Woolf gave this frank description of Gertrude Bell.
"a masterful woman who has everyone under her thumb, and makes you feel a little inefficient. " (2)
Unfortunately the new nation of Iraq proved to be rather artificial leading to conflicts between different tribes. The British presence was increasingly resented and disliked leading to a long period of violent and costly confrontation. It is perhaps surprising the striking similarities to the present situation are rarely mentioned.
After the situation in Iraq began to be a little more stable, Gertrude was able to pursue her interest in archaeology. She founded the Baghdad Archaeology Musuem with its extensive collection of artefacts dating back into antiquity and the times of Babylon. Gertrude Bell was a pioneer in calling for national treasures to be kept in the country of origin. The Baghdad Musuem used to be one of the world's most prestigious archaeological museums.
Unfortunately the brilliant life of Gertrude Bell came to a tragic conclusion in July 1926. A tribal rebellion against the British backed regime made the situation in Iraq discouraging and depressing. Beset by illness, and perhaps a sense of personal loneliness she took her own life with an overdose of sleeping pills.
By: Richard Pettinger(10/04/06)
See also Gertrude Bell on poetry of Hafiz
Bibliography
Books on Gertrude Bell