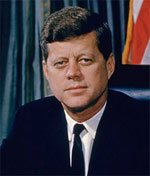 John Fitzgerald Kennedy was the 35th president of the United States. The youngest president ever to be elected. John F Kennedy presidency marked a new era in American politics. The early 60s laid down the beginning of Social reform and very significant civil rights legislation. Although many of these weren't completed until after his passing under Lyndon Johnson. Nevertheless J.F. Kennedy had a remarkable capacity to inspire his fellow country men.
"And so, my fellow Americans: ask not what your country can do for you–ask what you can do for your country."
– J.F.Kennedy
JF Kennedy was was born 29 May 1917 and died when he was assassinated in Dallas, Texas, on 22 November 1963.
JFK Biography at Wikipedia