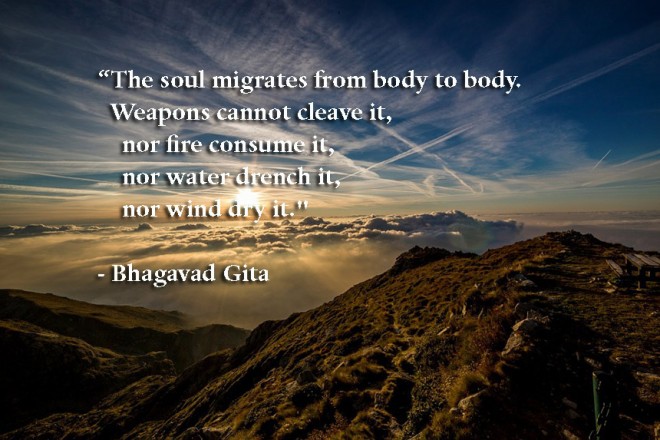 "The soul migrates from body to body. Weapons cannot cleave it, nor fire consume it, nor water drench it, nor wind dry it."
---
Because I could not stop for Death —
He kindly stopped for me —
The Carriage held but just Ourselves —
And Immortality.
---
"Death is not the end
Death can never be the end.

Death is the road.
Life is the traveller.
The Soul is the Guide"
---
"Death is but changing of our robes to wait
In wedding garments at the Eternal's gate."
---
"Say not in grief that she is no more
but say in thankfulness that she was
A death is not the extinguishing of a light,
but the putting out of the lamp
because the dawn has come."
---
"Death is a stair, a door, a stumbling stride
The soul must take to cross from birth to birth,
A grey defeat pregnant with victory"
– Sri Aurobindo, Savitri
---
"Tell me not, in mournful numbers,
Life is but an empty dream!
For the soul is dead that slumbers,
and things are not what they seem.
Life is real! Life is earnest!
And the grave is not its goal;
Dust thou art; to dust returnest,
Was not spoken of the soul."
– Henry Wadsworth Longfellow
---
"They that love beyond the world cannot be separated by it. Death cannot kill what never dies."
– William Penn
---
I was dead
I came alive
I was tears
I became laughter

all because of love
when it arrived
my temporal life
from then on
changed to eternal
– Rumi
---
"A stone I died and rose again a plant;
A plant I died and rose an animal;
I died an animal and was born a man.
Why should I fear? What have I lost by death?"
– Rumi
---
"My life closed twice before its close;
It yet remains to see
If Immortality unveil
A third event to me,
So huge, so hopeless to conceive,
As these that twice befell.
Parting is all we know of heaven,
And all we need of hell."
---
Two only are the doors of man's escape,
Death of his body Matter's gate to peace,
Death of his soul his last felicity.
In me all take refuge, for I, Death, am God."
But Savitri replied to mighty Death:
"My heart is wiser than the Reason's thoughts,
My heart is stronger than thy bonds, O Death.
It sees and feels the one Heart beat in all
– Sri Aurobindo, Savitri, p 635
---
 "The fear of death follows from the fear of life. A man who lives fully is prepared to die at any time."
― Mark Twain
---
"Cowards die many times before their deaths;
The valiant never taste of death but once.
Of all the wonders that I yet have heard,
It seems to me most strange that men should fear;
Seeing that death, a necessary end,
Will come when it will come."
― William Shakespeare, Julius Caesar
---
"Do not stand at my grave and weep.
I am not there, I do not sleep.
Do not stand at my grave and cry.
I am not there, I did not die!"
– Anon
---
"Life is for the living.
Death is for the dead.
Let life be like music.
And death a note unsaid."
― Langston Hughes
---
"Yea, all which it inherit, shall dissolve
And, like this insubstantial pageant faded,
Leave not a rack behind. We are such stuff
As dreams are made on, and our little life
Is rounded with a sleep."
― William Shakespeare, The Tempest
---
"I am ready to meet my Maker. Whether my Maker is prepared for the great ordeal of meeting me is another matter."
– Winston Churchill
"O Death, I have triumphed over thee within;
I quiver no more with the assault of grief;
A mighty calmness seated deep within
Has occupied my body and my sense:
It takes the world's grief and transmutes to strength,
It makes the world's joy one with the joy of God.
– Sri Aurobindo, Savitri, p 633
---
"Now I am become Death, the destroyer of worlds."
– Robert Oppenheimer (Quoting from Bhagavad Gita)
Related Pages