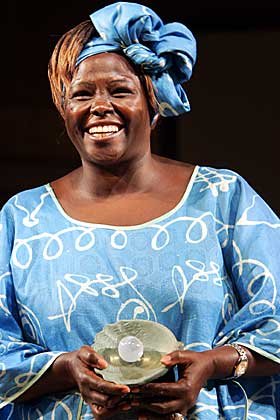 Wangari Muta Maathai was born in Nyeri, Kenya, East Africa in 1940. Prof. Maathai was the first Women from East Africa to gain a doctrate. She studied Biogolgy at Kansas and Pittsburgh before attaining her PhD from the University of Nairobi in 1971 (Anatomy)
Prof. Maathai was active in the National Council of Women of Kenya (NCWK) from 1976 to 1987 it was during this time that she was active in starting a tree planting project to help protect the environment.
The Greenbelt Movement was founded by Wangari in 1977, starting with a small tree nursery in her backyard. The movement promotes sustainable livelihoods, citizen education and reforestation, involving mainly women. Millions of trees have been planted in Kenya and other African countries.
Over the years, Wangari has opposed Government and others in Kenya over land-grabbing, deforestation and governance issues.
Recently she has been involved in campaigns such as Jubilee 2000 which have sought to gain debt relief for Debt ridden African countries.
In 2002, she won a landslide victory from her home constituency to become a Parliamentarian, and under the new coalition Government was appointed Assistant Minister for Environment, Natural Resources and Wildlife.
Wangari is internationally recognized for her persistent struggle for democracy, human rights and responsibility, and environmental conservation. She serves on the boards of several organizations.
Amidst all this activity, she has raised three children and continues to plant trees!
Adapted from: Wangari Maathai Foundation
Wangari Maathai was awarded the Nobel Prize for Peace in 2004
View: Nobel Prize Speech
External Links
Official Website of Wangari Maathai