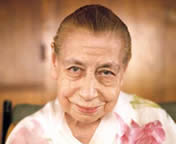 "The only important thing is to follow the Divine's truth with love and joy."
– The Mother
Biography of the Mother
The Mother was born in Paris, France as Mirra Alfassa on 21 February 1878. From an early age she displayed a remarkable interest in spirituality. In her own words she said.
"Between 11 and 13 a series of psychic and spiritual experiences revealed to me not only the existence of God but man's possibility of uniting with Him, of realising Him integrally in consciousness and action, of manifesting Him upon earth in a life divine."
In 1905 Mirra travelled to Algeria where she studied occult sciences with Max Theon and his wife. On returning to Paris she started a small spiritual group and gave various lectures on spirituality. In 1911 she married Paul Richards who had previously been to India and had a strong wish to return. In 1914 they both returned to India where they met Sri Aurobindo. On meeting Sri Aurobindo, Mira immediately recognised him as one who had been guiding her sadhana (she had seen him many times in visions and dreams and had been up until this point calling the unknown guide Krishna)
With the outbreak of the first world War Paul Richards and Mirra had to leave India. For most of the war Mirra lived in Japan, here she adopted many of the Japanese customs and dress and spent time at Buddhist monasteries. It wasn't until 1920 that Mira was able to return to Pondicherry to renew her spiritual collaboration with Sri Aurobindo. In 1926 Sri Aurobindo and the Mother founded the Sri Aurobindo ashram to accommodate the growing number of people wishing to follow Sri Aurobindo's Integral Yoga.
It was also in 1926 that Mira Richards became universally known as the Mother. This reflected her spiritual consciousness which was a manifestation of the Divine Mother. Sri Aurobindo also entrusted the whole of the Ashram organisation to the Mother.
" There is one divine Force which acts in the universe and in the individual and is also beyond the individual and the universe. The Mother stands for all these, but she is working here in the body to bring down something not yet expressed in this material world so as to transform life here — it is so that you should regard her as the Divine Shakti working here for that purpose. She is in the body, but in her whole consciousness she is also identified with all the other aspects of the Divine "
– Sri Aurobindo on The Mother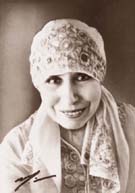 The Mother took an active interest in the spiritual needs of all sadhaks at the ashram, starting the day with her darshan in the morning. At various times the Mother would also give out various flowers which she felt symbolised various spiritual qualities.
The Mother wrote on spiritual philosophy. She described her own outlook on life
"I belong to no nation, no civilisation, no society, no race, but to the Divine.
I obey no master, no ruler, no law, no social convention, but the Divine.
To Him I have surrendered all, will, life and self; for Him I am ready to give all my blood, drop by drop, if such is His Will, with complete joy; and nothing in His service can be sacrifice, for all is perfect delight.
The Mother, from Volume 2, Words of Long Ago, p.166
On December 5th, 1950 Sri Aurobindo left the body so as to be able to work for his goal of spiritual evolution from beyond his body. The Mother continued the work from the physical plane working in earnest towards a physical transformation attempting to bring the divine into every cell.
Although born French, she later said that she felt herself Indian. But, at the same time felt no separation within this dual nationality.
"I am French by birth and early education, I am Indian by choice and predilection. In my consciousness there is no antagonism between the two, on the contrary, they combine very well and complete one another. I know also that I can be of service to both equally, for my only aim in life is to give a concrete form to Sri Aurobindo's great teaching and in his teaching he reveals that all the nations are essentially one and meant to express the Divine Unity upon earth through an organised and harmonious diversity."
– The Mother,  from Volume 13, Words of the Mother, p.43
In 1968 the Mother formally inaugurated the new city of Auroville. Auroville is an international township dedicated to realising human unity through diversity. In 1966 UNESCO passed a resolution giving its support to the idea.
The Mother entered her mahasamadhi in 1973 at the age of 95, three days after her passing her body was placed in the Samadhi alongside Sri Aurobindo.
External Links on The Mother