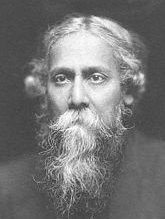 Selection of Tagore Poems
This is a selection of Tagore's poems.
More Tagore poems can be found at:
Rabindranath Tagore was one of India's greatest poets who was awarded the Nobel Prize for Literature in 1913.
His father Debendranath Tagore was a key figure in the Bengali renaissance which sought to reinvigorate the culture of Bengali by combining elements of Western materialism with traditional Indian culture.Tagore continued this tradition. He led an extremely productive artistic life as well as a poet Tagore was also an artist, writer, and educationalist.
Tagore had his first poetry published at the age of 17. However the publication of Gitanjali in America and Great Britain sealed his reputation as an international poet. It wsa for Gitanjali that Tagore was awarded the Nobel Prize for Literature.
Tagore's poetry stems from his love of nature, and commitment to a universalist philosophy which seeks to see God through personal service. Tagore was also influenced by The Upanishads – India's ancient scriptures.
"Love is an endless mystery,
for it has nothing else to explain it"
– Tagore