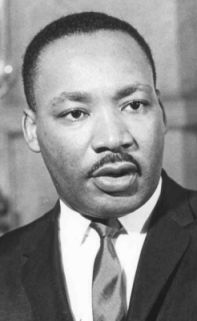 Martin Luther King Jr
Martin Luther King, civil rights activist. Nobel Prize winner1964.
Martin Luther King was one of the most prominent civil rights leaders who came to symbolise the non-violent struggle for social change. The speeches of Martin Luther Kingare amongst the most memorable speeches by public figure. Martin Luther King was able to inspire the black population to assert their civil rights. From a political perspective the civil rights movement was largely succesful with significant legislation passed in the 1960s.
Martin Luther King was assassinated in April 1968
View:Martin Luther King Jr Biography
Martin Luther King Links
Books- Martin Luther King Jr