The Loss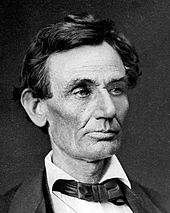 In 1858 Abraham Lincoln accepted the Republican Party's nomination to run for the Illinois Senate seat against the Democratic incumbent Stephen Douglas. (In those days, U.S. senators were elected by state legislatures; so the candidate whose party won control of the state legislature was elected.) Despite the Republican Party winning the popular vote, Lincoln lost the election because the Republicans did not gain control of the Illinois state legislature. (In the election the Republicans received about 50 percent of the popular vote and won only 47 percent of the seats in the house. Where as the Democrats received 48 percent of the popular vote and won 53 percent of the seats. On January 5, 1859, when the balloting took place in the Illinois state legislature Douglas received 54 votes to Lincoln's 46 and was thus reelected for another six years to the United States Senate.) But this defeat proved to be the stepping stone for Lincoln to win the Republican presidential nomination and ultimately the presidency. Lincoln who was little known outside his home state gained national recognition after his splendid performance in the famous Lincoln-Douglas debates.
The Lincoln-Douglas debates
The central issue during the Lincoln-Douglas debates was slavery, especially the issue of slavery's expansion into the territories.(Territories of the United States were political division of the U.S., overseen directly by the federal government of the United States but were not any part of a U.S. state. These territories were created to govern newly acquired land while the borders of the United States were still evolving.) Lincoln was against the expansion of slavery into the territories where as Douglas was advocating the doctrine of popular sovereignty, which meant that, people of a territory could decide for themselves whether to allow slavery. Lincoln was against popular sovereignty and the extension of slavery that it would allow.